UKC CH Chuckanut Soundview As Thyme Goes By
This is the breeding we've only dreamed of. Sammie is a stunning girl out of Chuckanut's Captain Kangaroo and Malagold's Once Upon a Thyme. (Wow! Check out those pedigrees!)
Sammie has a lovely head (by now you've probably figured out that we are "head hunters"--we love our heads!). She has a soft expression and an easy going temperament. Friendly, confident and outgoing, Sammie always maintains a sweet demeanor. She is our calm, quiet, easy girl. It's hard to be in a bad mood when Sammie is around.
Taking in every new adventure with unbridled enthusiasm, she has shown an interest in the birds, is a quick learner and oh so eager to please. And she is a real snuggle bug!
At just 10 months of age she earned her UKC championship, including a Group 1 placement. Go girl!
Sammie has produced consistent offspring, some now in the show ring and performance arenas, some performing therapy dog work and others with the most important job of all, loyal friend and companion.
Bred by Ken Matthews & Wayne Miller (Thank you!)
Owned by Scott & Debra Dalgleish.
Pedigree information and health clearances available at: k9data.com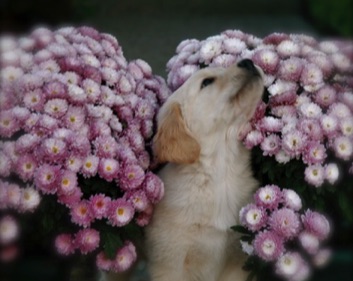 UKC CH Chuckanut Soundview As Thyme Goes By        

08-25-10 --